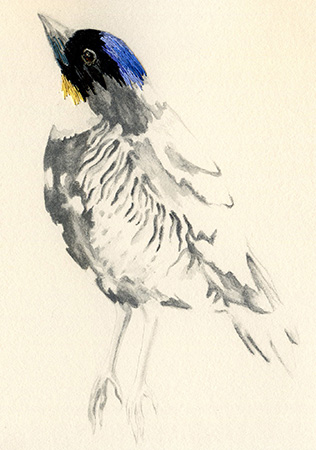 Fading closeup
graphite pencil, cotton thread embroidery, rag paper
6" x 6"
Private Collection
The continuous stimulation of everyday life observations inspires the visual dialogues between remembered color, light, texture, form and the intuitive design in my work. The narrative nature of the pieces begin with simple, black line sketches that are revealed by way of methodical applications of chosen materials. Each stitch through fabric or paper becomes a drawing tool that transforms my ideas into tactile illustrations.

My recent return to drawing reflects a self-imposed challenge to change direction in techniques, materials and subject matter. Relying on the familiar to mingle with the unexpected future, stimulated a myriad of complex ideas to surface which, in turn, impacted my dedicated interest in the plight of vanishing species in nature. For me, the images created reference the fundamental power of visual messaging, the ongoing process of change and the necessary insight to remain open to change.